English speaking doctors in Wroclaw
by Dariusz
(Wrocław 1 A Kmicica Street)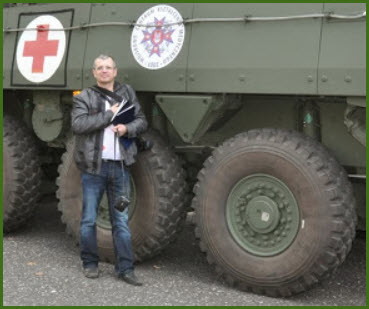 dr Kraśnicki - an English speaking private dr in Wroclaw
Hi guys,
My name is Darek Krasnicki and in this video I'd like to tell you how a 42 year old tourist, totally lost in translation,

whilst enduring a bad cold which she had been fighting for 2 weeks,
was facing the unbearable situation of having to take a long flight home without having received any medical assistance
and how she was eventually able to quickly get rid of the congestion and coughing before her flight.

---
I'm a Polish doctor who travels all around the world And I know from my first-hand experiences how traveling internationally can expose your health to risks in often unfamiliar environments.
Of course health risks associated with travel,
can be minimized by suitable precautions taken in advance,but more often than not, an illness will appear with little or no warning.
---
It's very likely that you will meet a foreign doctor who cannot speak English well enough to treat English speaking patients
Of course not knowing English doesn't have to result in serious blunders.
But I can't stress strongly enough that you must be confident
that the doctor who treats you has the communication skills to do the job.
---
At the beginning of my video I gave you
a typical example of a patient of mine who suffered for a long time simply
because she couldn't find an English Speaking doctor quickly.
When she found me, she had a deep cough that made it difficult for her to sleep as well as a large build-up of fluids in her sinuses.
In addition she was feeling quite run down by this infection.
After medical examination
It seemed to me that she needed an antibiotic at that point.
Having only taken a few pills she recovered very quickly, so flying home was not a nuisance for her.
---
When you come in to my office,generally, you will be the only patient there and you will have my full, undivided attention.
I will only recommend treatment for you that I would have for myself and I'll go through all of the therapeutic options with you.
My patients are seen one-at-a-time, and on time.
So, if you are in Wroclaw and the worst comes to the worst
just send me an email lekarz@krasnicki.com.pl
and you will be able to get in touch with me.
Very often my surgery, at 1A Kmicica street in Wroclaw,
is the first point of contact with the Polish Medical Community, especially if you have a pre-existing medical condition that requires on going care.
Not only can I diagnose and treat my English speaking patients in a professional and timely manner, when necessary I can also refer specific cases to English speaking, health care specialists whose surgeries are also located in Wroclaw.
---
Do me a favor. If you like this video
please leave me a comment. Help to spread the word about the services which I provide by clicking on the 'like' or 'share' icon.
Give me a thumbs up but only if you think that my video, and the services which I provide, can be helpful to English speakers who may visit the beautiful city of Wroclaw and find themselves in need of medical assistance.
Thanks guys and I will see you all in my next video.
English speaking doctors in Wroclaw
---
Some reviews of satisfied clients:
Efficient, friendly service. Was able to help me in English. (drivers license medical)
Very professional and competent service. The doctor speaks English perfectly and immediately understood my problem, helped me fast. Got an appointment the same day within hours.
Very good service. Very good description from internet and quite easy to book appointment . The staff speaks good English and service is fast and efficient.
My experience was great! Great service, fast and friendly. Doctor Dariusz and the Reception staff. Thank you.
Dariusz is without a doubt the best doctor I have ever come across. A huge library of knowledge and very timely, honest, and just a pure pleasure to even speak to. It's not often you have the luck to find someone like this so if you have any kind of medical questions or need a second opinion or even direct care - do NOT hesitate with Dariusz, you will not regret it at all.